Jessica "Jessie" Owens is a character from the popular American television show Baywatch. She was portrayed by actress and model Brooke Burns.
Jessie was a tall, athletic woman with long blonde hair and blue eyes. Her face was usually adorned with a wide smile. She was 175 cm (5'9") tall and weighed 59 kg (130 lbs).
Jessie was 20-years old in Baywatch season 9 and one year older when she joined Baywatch Hawaii.
Jessie has a bubbly personality and is good friends with the other lifeguards. She is always ready to dive in and save a life and takes her position as a lifeguard to be a privilege as well as a responsibility.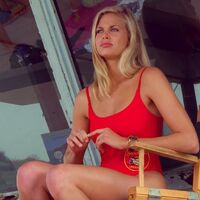 If Neely Capshaw was the top female athlete on Baywatch then Jessie was that on Baywatch Hawaii. But unlike Neely, Jessie was naturally athletic. She was physically strong and had excellent stamina; aspects that would help her reach her ultimate goal of becoming a stuntwoman.
Before becoming a lifeguard Jessie worked for a short while as the Maintenance Manager at Baywatch in LA, a task that hardly reflected her skills.
Being a strong swimmer and diver as well as an excellent runner it was no surprise she was also interested in triathlon competitions.
Despite having talent, Jessie was a rough diamond requiring some polishing; she especially needed training in actual lifeguarding skills. But as an aspiring triathlete, lifeguard and stuntwoman, her training was more on the physical side including running, swimming, biking and weight training. She eventually left Baywatch, but not before becoming a good lifeguard, to actively pursue a stuntwoman career.
Season 1 begins in Aloha, Baywatch with Mitch Buchannon having lost the feeling of lifeguarding. He successfully makes a rescue whilst on holiday in Hawaii, yet feels his lack of knowledge about Hawaiian morphology and coastal processes impeded his ability to complete the rescue. He spent ages looking in a rip current instead of a lava tube. He decides to create an elite group of lifeguards from around the world to share knowledge and techniques to better prepare lifeguards worldwide to any possible situation. Jessie and J.D. Darius were selected from Baywatch.
Prior to travelling to Hawaii, she was semi-romantically attached to J.D. Darius - he was training her in preparation for an Ironman triathlon. She originally didn't want to go to Hawaii - however, when JD mentions that an Ironman triathlon takes place in Hawaii, she was won over and decides to go!
Sometimes her name is misspelt as Jesse, for example during the opening titles sequence of season 10.
Of all the lifeguards in the series, Jessie, J.D. Darius, Craig Pomeroy, and C.J. Parker were the only ones to re-enter rookie school.
Community content is available under
CC-BY-SA
unless otherwise noted.