Shauni McClain is a character in Baywatch.
Though nervous at first, she proved herself to be a very confident, skilled and valuable lifeguard.
Physical Appearance
[
]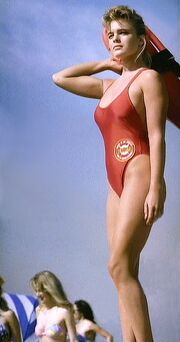 Shauni is a beautiful, athletic young woman with long blonde hair (later cut short during her final appearance in Season 3) and green eyes. She was also physically fit, which was a key asset in her job with Baywatch.
She was also a sexy head-turner which caught the attention of men on the beach. (The Cretin of the Shallows)
She was 5 ft 5 inches in height.
Shauni was 18 years old when she was introduced in Season 1.
Personality
[
]
Shauni started off nervous and had lack of self esteem but during her friendship with the Baywatch team, her attitude changed and she became more confident in herself.
She was very dedicated to her job, though at times she showed signs of naivety.
She looked to Mitch as a father figure and loved Eddie dearly. Jill's death affected her deeply but she chose to continue on and use what Jill taught her to carry on to be the lifeguard she had trained her to be.
Skills and Abilities
[
]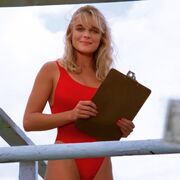 Shauni started off scared of victims drowning and froze up whenever they needed CPR. However the team gradually helped her to overcome her fears and she began to appreciate her duties as a lifeguard.
After being under experienced senior lifeguard Jill Riley's wing, Shauni was an expert in rescue and life saving techniques, handling the rescue vehicles and a strong swimmer. She was even seen giving lifesaving lessons to students on the beach.
Baywatch
[
]
Season 1
[
]
Shauni starts dating a law student named Andrew, but he turns out to be physically abusive. Eddie warns Shauni about his violent side, but she ignores his warning, which turns out to be a major mistake as he gives her a black eye. Andrew apologizes when he visits Shauni at her apartment, which infuriates Eddie. Later, Andrew gets violent again as he wrecks Shauni's apartment, and she calls Eddie to tell him about what happened. Eddie hugs Shauni when he arrives to see the damage and spends the night with her. Andrew arrives the next morning and attempts to reconcile, but Shauni dumps him. Eddie and Shauni start a relationship during a hurricane when they get stuck at Craig and Gina's apartment.
Season 2
[
]
Shauni reveals to Eddie she wants to have three kids someday after Eddie starts caring for an abandoned baby discovered under his tower.
Season 3
[
]
Shauni has a pregnancy scare during a camping trip with Eddie, Hobie, and Mitch and tells Eddie about it, but it turns out she is not pregnant. Shauni gets taken hostage by the two men who killed Mitch's uncle, but Eddie, Mitch, Hobie, and C.J. manage to rescue her. Eddie and Shauni get married and leave Baywatch to start their new life in Australia.
Baywatch: Hawaiian Wedding
[
]
Though Shauni makes no physical appearance, she is mentioned by Eddie who says they have now separated. Reasons why this happened have never been revealed.
Appearances
[
]
Episodes
[
]
Baywatch
Season 1
Season 2
Season 3
Trivia
[
]
Erika Eleniak played Shauni in all 44 episodes of the first and second seasons, as well as appearing in the series pilot "Panic at Malibu Pier" and the first two episodes of the third season. She was the show's female lead from 1989 until 1992. Erika later explained that her decision to leave the show was due to her dislike for the direction Baywatch was taking, which was exactly the same reasoning fellow cast member Billy Warlock gave for his departure.
Shauni McClain's wealthy background, along with her tumultuous relationship with her father about her job as a lifeguard, would later be used for future lifeguard Matt Brody's storyline.
Shauni is the first lifeguard to nearly lose her job due to pictures of her ending up in a pinup magazine. The second was Donna Marco, who was nearly fired for posing for Playboy magazine.