Skylar "Sky" Bergman is a character from the popular American television show Baywatch. She was portrayed by actress and model Marliece Andrada.
Sky is a tall, slender attractive woman in her mid-twenties with long blonde hair and light brown eyes.
Sky has a warm personality as seen in her friendship with April Giminski and Lani McKenzie.
All that is known about Sky is that she lived with her mother and was originally training to a emergency medical technician. But then she saw being a lifeguard as the perfect way of learning lifesaving techniques to help further her career in ER.
Sky was one of the female lifeguard recruits to join Rookie school. She along with 14 others passed the first test. During another lesson, they were interrupted by Lani's crazy ex-boyfriend Darren who was jealous of Lani's friendship with lifeguard Cody Madison and wanted to go back with him to Hawaii by force if necessary. He later tried kidnapping her, but thanks to Cody, Lani was safe and the Rookie School continued (Rookie Summer).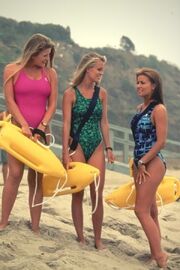 She, Lani and April worked together to pass the rest of their training with Sky declaring how amazed there was so much to learn. During a swim with a Rescue Can, April nearly drowned by a maniac driving dangerously on a jet ski. Though April was unhurt, Sky said that this should be reported but April stubbornly told both her and Lani to not say anything as it would make the other lifeguards see her as unable to cope in the water.
This however proved to be a big mistake when the same maniac caused even more harm. It was revealed to be Richie, a trainee who was expelled from Rookie School who was upsetting things in act of revenge. Later Lieutenant Mitch Buchannon reprimanded the girls for their secrecy, stating that lifeguards are on watch 24 hrs a day, on or off duty, being prepared for any emergency any time or any place. If any incident is seen, it should be reported straight away, keeping it secret only endangers lives. Though this lack of responsibility would have led to the three failing Rookie School, Mitch gave them another chance (Next Generation).
Sky was then given her red lifeguard swimsuit as the next stage of her training. During a dive rescuing exercise off a pier, Sky discovered that another recruit J.D. Darius was against following the official lifeguard procedure as from his previous lifeguarding job in Daytona, he had lost a victim even though he had tried his hardest to follow the procedure of putting yourself between the victim and the hazard. Sky promised to keep his past a secret when he told her.
However after Mitch revealed that he knew about J.D.'s passed, he accused Sky of betraying him who was shocked and rebuffed him by saying that blaming someone for your problems, doesn't make them go away. It was later revealed that Mitch found out about the incident from J.D.'s Captain in Daytona, but was willing to give him another chance as a lifeguard. It is assumed that J.D. later found Sky and apologized for accusing her (The Choice).
She and April then moved into an apartment together and next day they went with Mitch to do their first underwater recovery mission to find information on an incident reported in a specific spot. During the dive they discovered the corpse of a dead senior citizen who had been weighed down by stones tied around his ankles. April then went with the rescue team to the morgue to find out more about the victim. Sky wasn't so keen.
Later during a patrol at the beach, she asked April if she had found out anything about the victim they found. April tells her that the coroner thought he looked dead before he was even in the water. April then began having dreams about the victim underwater calling for help and told Sky that the missing link to finding out the victim's identity was finding the necklace that she had seen him wear before they pulled him from the water.
Next Morning they set out to dive again and find the necklace, which is revealed to be a collection of dog tags. With some help from Mitch they discovered the owner of the chain to Wallace Tuttle, but his body was stolen from the morgue. They then visit a retirement hotel where Wally had lived and ask two men Ed Morgan and Marion "Jigger" Lindsay who had presumably knew the victim, but didn't get any answers.
However, thanks to April researching on the internet, it was revealed that both Wally and those two men had been together in the navy during World War II and had known each other for fifty years. Sky then appeared and told them that she had found out that from the receptionist at the hotel that they owned a boat that they often fished in, which confirmed their suspicions that they knew about Wally, which means they were responsible for putting the corpse in the water all along and had now stolen the corpse from the morgue.
Mitch, Sky and April then go to the spot where the two men were about to place the corpse into the water again with heavier weights. But they both fall into the water in the process. After the three lifeguards rescue them and bandage their wounds, Ed and Jigger reveal that they were only trying to give their friend an honorable burial at sea. However Mitch reprimands their actions as being illegal but agrees to let them give him a proper burial in a cemetery of war heroes (Memorial Day).
Sky isn't seen again after this, but it can assumed that she left Baywatch to pursue her career in ER.
Even though Sky only appears in 4 episodes of season 8, she is still in the intro sequence.
Marliece Andrada first appeared on the show in the Season 7 episode Rendezvous where she played a mermaid named Mellisande.
Community content is available under
CC-BY-SA
unless otherwise noted.