Roberta "Summer" Quinn is a character in Baywatch.
She was one of the youngest members of the team and lived with her mother Jackie who ran a restaurant called Jackie's Summer Place on the beach.
Physical Appearance
[
]
Summer was an athletic young woman with short blonde hair and blue eyes. She had a tattoo around her right ankle.
She was 17 years old when she joined Baywatch in season three. She was one of the smallest lifeguards at 5ft2 (157 cm) and 110 pounds (50 kg)
Personality
[
]
Summer was always hardworking both with school and her lifeguarding duties. She and her mother Jackie had a mutual bond and she was good friends with her fellow lifeguards.
Skills and Abilities
[
]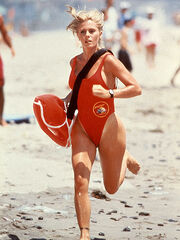 Summer was a star athlete in her hometown and a champion swimmer. She had no trouble in qualifying for the Baywatch rookie school. During the training she did physically well, but had to overcome mental difficulties like her fear of heights. She finished sixth in the final physical test and was one of the thirteen rookies to qualify for a position in Baywatch.
Before leaving Baywatch for University, Summer had become an excellent lifeguard.
Baywatch
[
]
Season 3
[
]
Summer arrives from Pittsburgh with her mother, Jackie. She develops a friendship with Matt Brody after he saves her and Jackie from Jackie's ex-boyfriend, who turned out to be abusive. Summer enters a relationship with surfer Jimmy Slade. On a cruise ship, Summer helps the lifeguards on the ship stop terrorists. She and Stephanie are taken hostage by an escaped murderer, but escape alive.
Season 4
[
]
It is revealed Summer has an eating order, but C.J. helps her overcome it. Jimmy and Matt compete for Summer's affections, and Summer chooses Matt. Summer learns about Matt's relationship with Seattle biker Jessie Majors, but helps her and Matt fight off a suitor from her past who has been stalking her. Summer believes there is a ghost haunting the Hotel del Coronado in San Diego.
Baywatch: Hawaiian Wedding
[
]
She is back at Baywatch as a lifeguard. She begins dating Hobie Buchannon.
Baywatch (2017 film)
[
]
She appears in this as a love interest to Matt Brody.
Appearances
[
]
Episodes
[
]
Baywatch
Season 3
Season 4
Movies
[
]
Trivia
[
]
Summer has also had the nickname of Bobbi.
Summer has been in relationships with both Matt Brody and Jimmy Slade.

She dated Slade in the third season and Matt in the fourth season.

In Baywatch: Hawaiian Wedding, she begins a relationship with Hobie Buchannon.
Summer's mother, Jackie dated Mitch Buchannon.
Summer's relationship with Matt Brody resembles the relationship between Eddie Kramer and Shauni McClain.
Gallery
[
]